BEAUTY, SEDUCTION AND SHARING
Art Collection Maria and João Cortez de Lobão
Virgin with Child between Saints by Ventura di Moro
Ventura di Moro was born in Florence between 1395 and 1399 and died in the same city, nearly 90 years old, in 1486. Throughout his life, the painter maintained the models and compositional solutions of the painting of the first third of the century, with highly decorative gilded and punched backgrounds and competent work that strictly adhered to archaic formulae, far removed from the novelties of the new renaissance language.
The triptych in the collection of the Gaudium Magnum Foundation, now on display, is an excellent demonstration of the quality of Ventura di Moro's work, but also of the atavism of his compositions, which adopt models rooted in the bygone severity of Giotto's work. Against a gold background, on a uniform floor, to which the chromatic gradation seeks to give the illusion of perspective, two pairs of saints are arranged, in the traditional fashion, on the side panels, with the Virgin on the throne with the Infant Jesus on her lap in the central panel. The Virgin's throne also shows the same intention of creating a space with perspective, while the relationship between Mother and Child reflects an attitude of extreme humanity and tenderness.
OPENING
19 September | 18h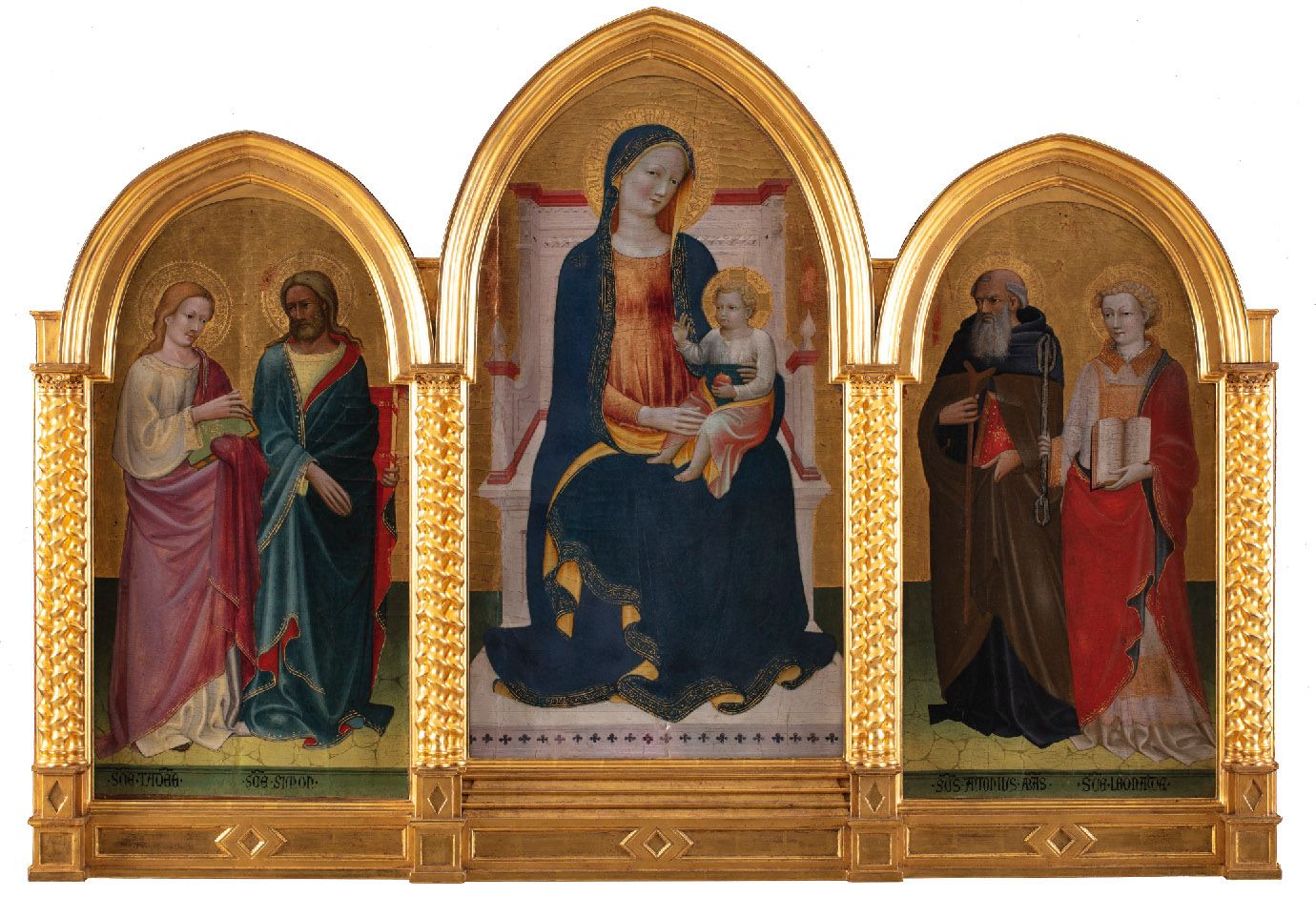 Ventura di Moro (Florence, c. 1395/99-1486), Virgin with Child between Saints Jude Thaddaeus, Simon, Anthony and Leonard, c. 1430-1435, Tempera and gold on poplar wood, 105,5 × 41 cm (central panel), c. 93,5 × 49,5 cm (side panels) | Gaudium Magnum Foundation/Maria and João Cortez de Lobão Collection ©Jorge Simão


EXHIBITION BOOKLET


About the Gaudium Magnum Foundation
The Gaudium Magnum Foundation – Maria and João Cortez de Lobão Art Collection - was created in 2018. Its mission is the enhancement of Portugal - its culture and its people - and the Portuguese language. The Gaudium Magnum Foundation aims to be an institution open to the world, promotes the Common Good, and contributes to a fairer society in the light of Christian values and the mission of Portugal in the world. To pursue these goals, it bases its action on four fundamental areas: Culture, Education, Charity, and Research. Regarding the Cultural Area, the Foundation's art collection gathers a valuable set of works of art, mainly by Old Masters, with a significant component of Portuguese artists.