GUEST WORK
ALBRECHT DÜRER
A masterpiece by Dürer and an intriguing Portuguese face


The portrait of Jakob Muffel, painted by Albrecht Dürer in 1526, on loan from the Gemäldegalerie in Berlin, perfectly demonstrates the skills that made Dürer one of the great Renaissance portraitists. Adopting the "bust" model of composition, the figure stands out against a blue background with meticulous modelling, in a sculptural effect that graphically delineates the whole figure. Jakob Muffel (1471-1526) was almost exactly the same age as Dürer (1471-1528), they both lived in the city of Nuremberg and there is documentary evidence of the friendship between the two, Muffel was an important man in Nuremberg, being a councillor from 1502 and burgomaster of the city from 1514. This portrait was probably an official commission, given that Dürer painted another the same year, of the same size, of the Nuremberg senator Hieronymus Hotzschuher.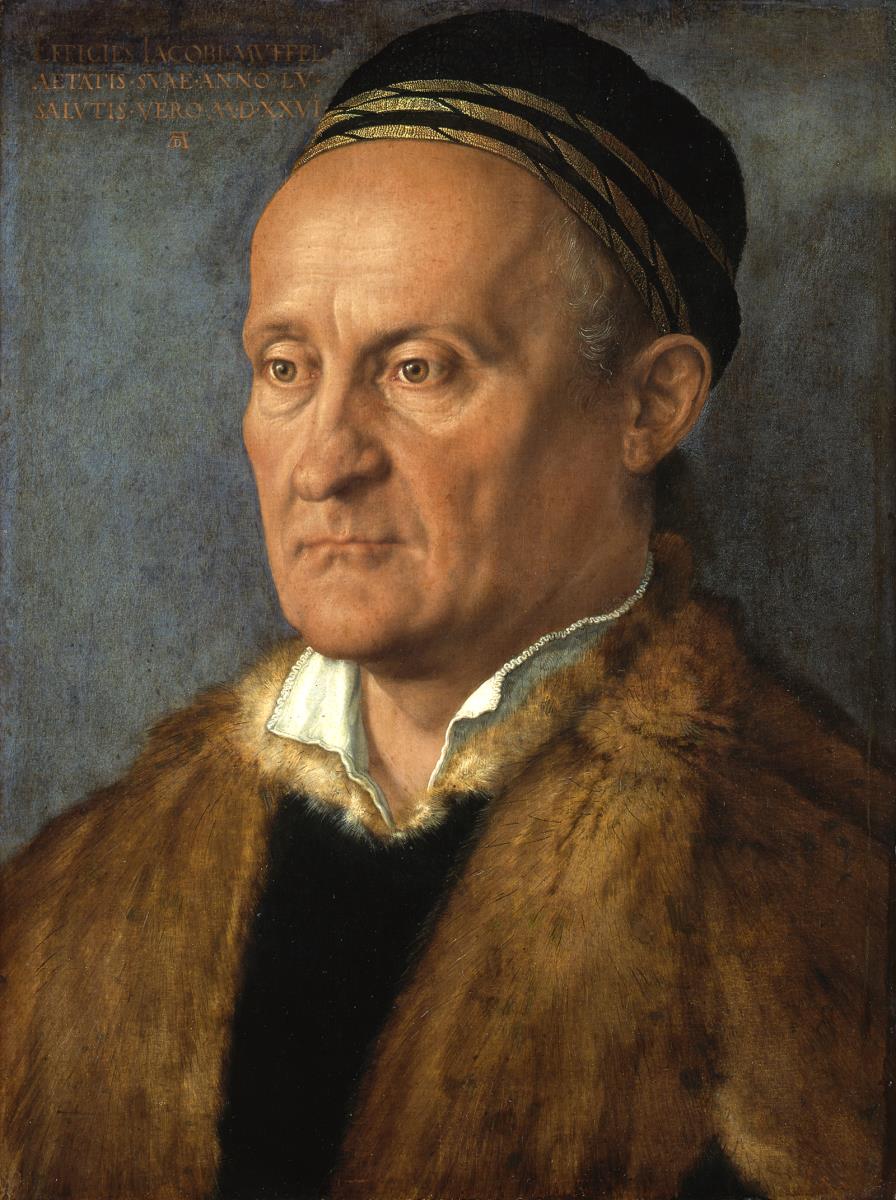 Albrecht Dürer (1471-1528)
Portrait of Jakob Muffel
1526
Oil on wood panel transferred to canvas
Berlin, Gemäldegalerie, inv. 557 D
The second portrait raises an interesting and delicate question of attribution and of the identification of the sitter. It is based on the portrait of a Portuguese man drawn by Dürer in 1521, of which three painted versions are known. In 1587, Philip Galle engraved the image, identifying it with Damião de Góis, which would have been impossible as the two men never met. The engraving plate was later altered to reflect that it was Dürer's work. The fact that it was unfinished also offers a glimpse of the creative process behind the work. It is possible that the sitter was João Brandão, a Portuguese factor in Antwerp at the time when Dürer visited the city.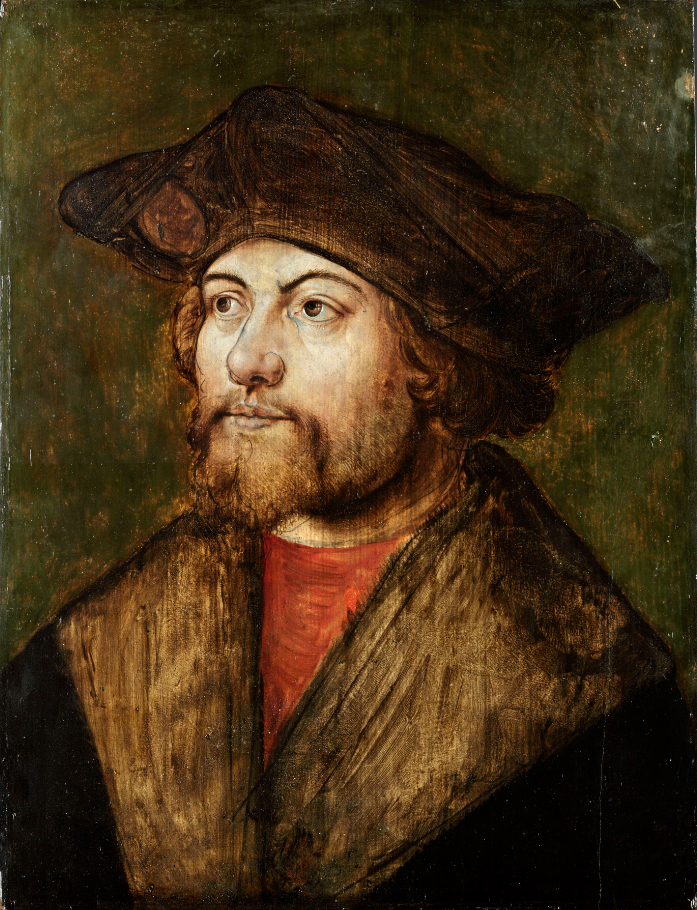 Albrecht Dürer (?) or based on Dürer
Portrait of a Man (João Brandão)
c. 1525
Oil on oak wood (unfinished)
United Kingdom, private collection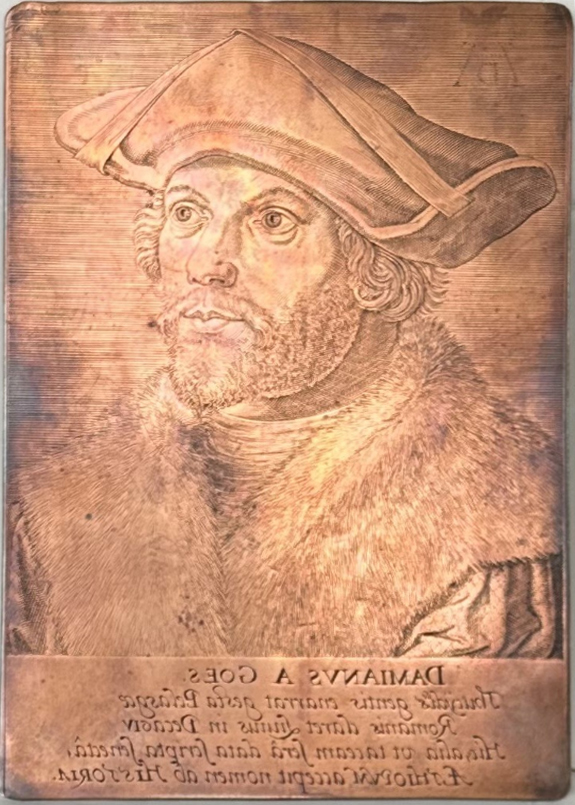 Philip Galle (1537-1612)
Fictitious portrait of Damião de Góis (João Brandão?)
1587
Counterfeit copper engraving plate with the monogram of Albrecht Dürer
United Kingdom, private collection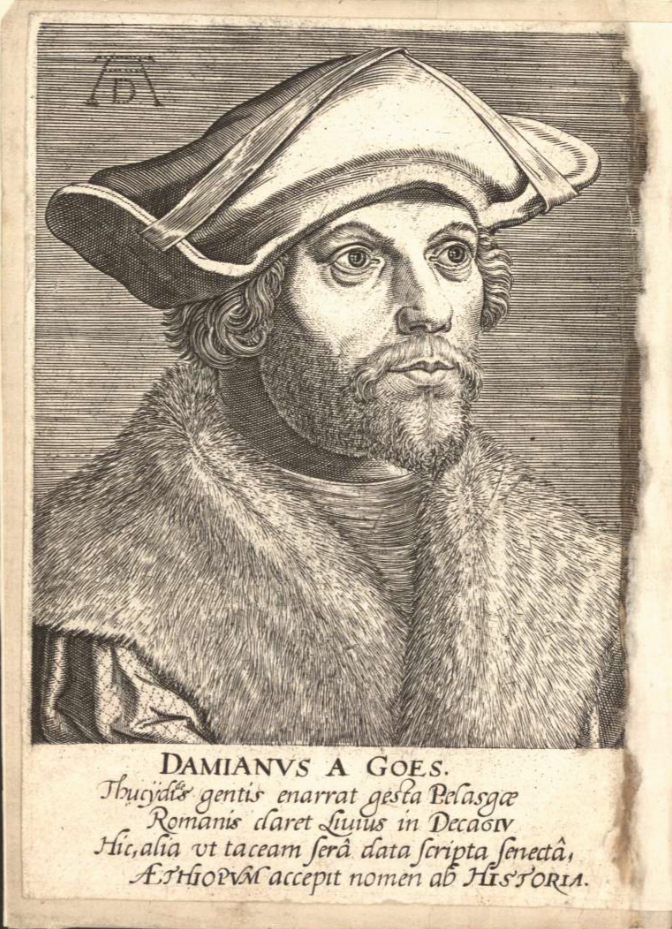 Philip Galle
Fictitious portrait of Damião de Góis (João Brandão?)
18th-19th century
Counterfeit engraving made from plate from 1587
Pasted into a copy of the work by Damião de Góis
Urbis Louaniensis Obsidio. Lisbon: Luís Rodrigues, 1546
Biblioteca Nacional de Portugal, Res. 292V
EXHIBITION BOOKLET