BEAUTY, SEDUCTION AND SHARING
Art Collection Maria and João Cortez de Lobão
The Assumption of the Virgin by Agostino Masucci



Of particular interest for both its exceptional aesthetic quality and its documentary value, this work is a final version for the large altarpiece created for the main chapel of Évora Cathedral, in 1734.
It is an extremely rare model for one of the great pictorial enterprises of the reign of King João V, created by Agostino Masucci (1690-1758), one of the most renowned painters to work for the king's court during the first half of the 18th century. Indeed, from 1716 on, Masucci produced various works for Portuguese clients, and in 1728 painted for the Royal Palace of the Dukes of Braganza, in Vila Viçosa. Commissions for the works at Mafra, in the early 1730s, also enhanced his prestige and gained him the king's favour. After completing his commission for the main chapel and presbytery of Évora Cathedral, he returned to Portugal in 1742 to work on the Saint John the Baptist Chapel at the Church of São Roque and the remodelling of the Patriarchal Church at Paço da Ribeira, and again the following year, towards the end of João V's reign, for the main altar of the church of the convent of the Barbadinhos Italianos (Capuchins).
The work for Évora Cathedral is representative of the evolution of Masucci's oeuvre as he matured in the classical 'marattesco' style, less permeable to the influences of the Barrochetto, which was characteristic of his painting during the decades that followed, closely linked to the classicism of the second half of the century driven by artists such as Batoni or Mengs.
OPENING
7 Jun, 18h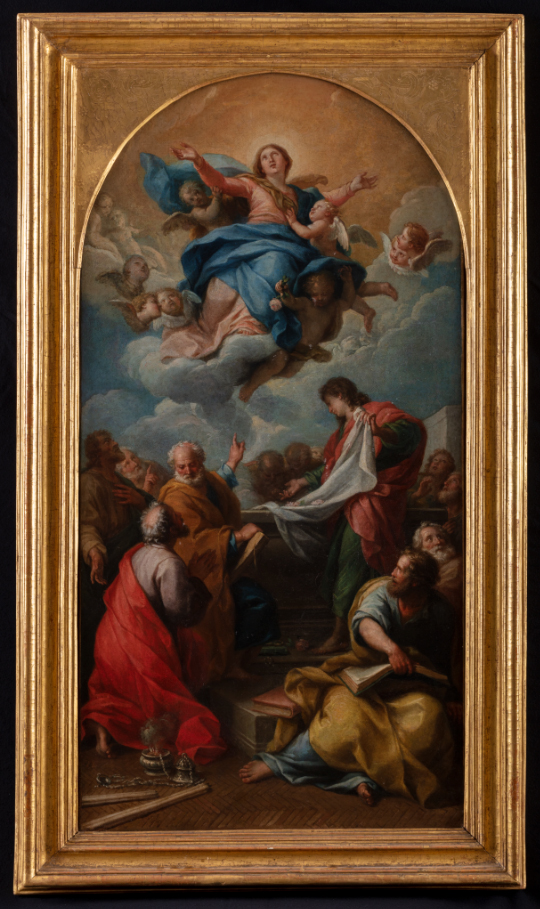 Agostino Masucci (Rome, 1690-1758) |
The Assumption of the Virgin
, c. 1732-1734 | Oil on canvas, 90 ×60 cm | Gaudium Magnum Foundation/Art Collection Maria and João Cortez de Lobão ©Jorge Simão
EXHIBITION BOOKLET


About the Gaudium Magnum Foundation
The Gaudium Magnum Foundation – Maria and João Cortez de Lobão Art Collection - was created in 2018. Its mission is the enhancement of Portugal - its culture and its people - and the Portuguese language. The Gaudium Magnum Foundation aims to be an institution open to the world, promotes the Common Good, and contributes to a fairer society in the light of Christian values and the mission of Portugal in the world. To pursue these goals, it bases its action on four fundamental areas: Culture, Education, Charity, and Research. Regarding the Cultural Area, the Foundation's art collection gathers a valuable set of works of art, mainly by Old Masters, with a significant component of Portuguese artists.